Those ugly, orange rust stains in your toilet are a result of iron-rich water. The rust that forms inside the pipes and your hot water heater can cause these streaks in the toilet and other water fixtures throughout your home. Unless you use the proper materials and methods to remove rust stains from the toilet and other fixtures, you can cause the stains to become permanent.
Here are some recommendations that seasoned toilet plumbers near me in Plymouth, Wisconsin, offer for removing rust stains from your toilet.
What Causes Rust Stains?
Iron and oxygen in your water react to form iron oxide, which is commonly known as rust. You may also see this result after leaving a shaving cream can or razor on the edge of the sink in moisture — a red ring or line.
If your water contains high levels of iron (such as can be the case with well water) or you have iron plumbing pipes, a rusty water heater, or old metal components in your toilet, you will have a continual battle with rust stains.
Plymouth Plumbing & Heating, your experienced, local plumbers in Sheboygan, can recommend fixes to help get rid of rusty water. This can include a new water heater installation, new pipes, or a water softener to remove foreign materials from your water.
How Often Should I Remove Rust Stains from the Toilet?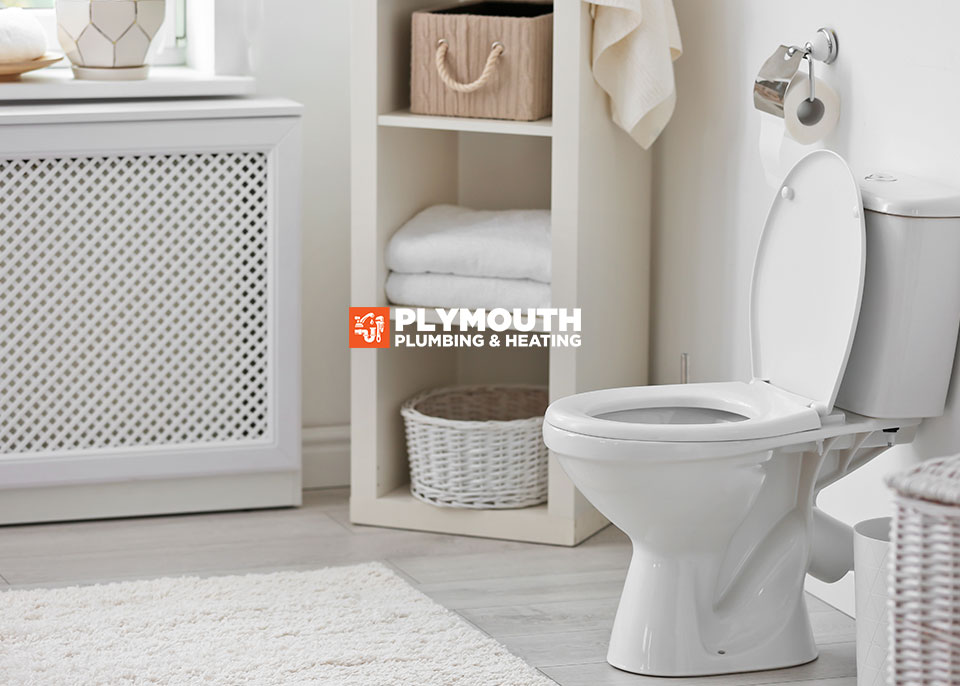 Unless you take action to remedy the situation such as those recommended above, you will find yourself removing pesky rust stains from your toilet, sinks, and showers frequently. Depending on the amount of iron in your water or plumbing system, it may need to be a weekly chore. Allowing rust stains to remain a long time can make them permanent; then removal may necessitate replacing the fixtures.
Bathrooms should be cleaned weekly with particular attention to removing any visible rust stains. After cleaning and every use, take care to thoroughly dry tubs, sinks, and showers so any rust particles don't have a chance to settle.
Step-by-Step Instructions
Toilet plumbers near me in Plymouth may recommend the following steps to remove rust stains from toilets and other surfaces.
Turn off the water to the toilet. A valve can usually be found underneath the tank. Turn this valve clockwise until it stops.
Flush the toilet to remove water from the bowl. You may have to flush it twice to remove water from the bowl and tank.
Begin by mixing lemon juice and baking soda into a paste and applying this to the rusty area. Allow sitting for at least one hour.
Gently scrub the stains with the mixture with a toilet brush until they are no longer visible. Reapply and scrub again if necessary.
For more stubborn rust stains, mix distilled vinegar and baking soda and apply as described above.
Rinse the area well after the stains are gone.
Turn the water back on and refill the toilet. Flush several times.
Weekly scrubbing with a mixture of vinegar and water can help keep rust stains from re-forming.
The gentle abrasives in lemon juice, baking soda, or even a soft pumice powder are gentle enough to remove many rust stains without damaging the porcelain, fiberglass, or enamel finish of your toilet or other bathroom surfaces. If you have particularly stubborn rust stains, like those that have been set for a while, you may want to use a commercial rust remover. Some are harsher than others, so read the labels carefully and follow the manufacturer's instructions and recommendations. These products can have harmful fumes, so take particular care to wear protective clothing like gloves and goggles when using them.
Get Professional Help from Toilet Plumbers Near Me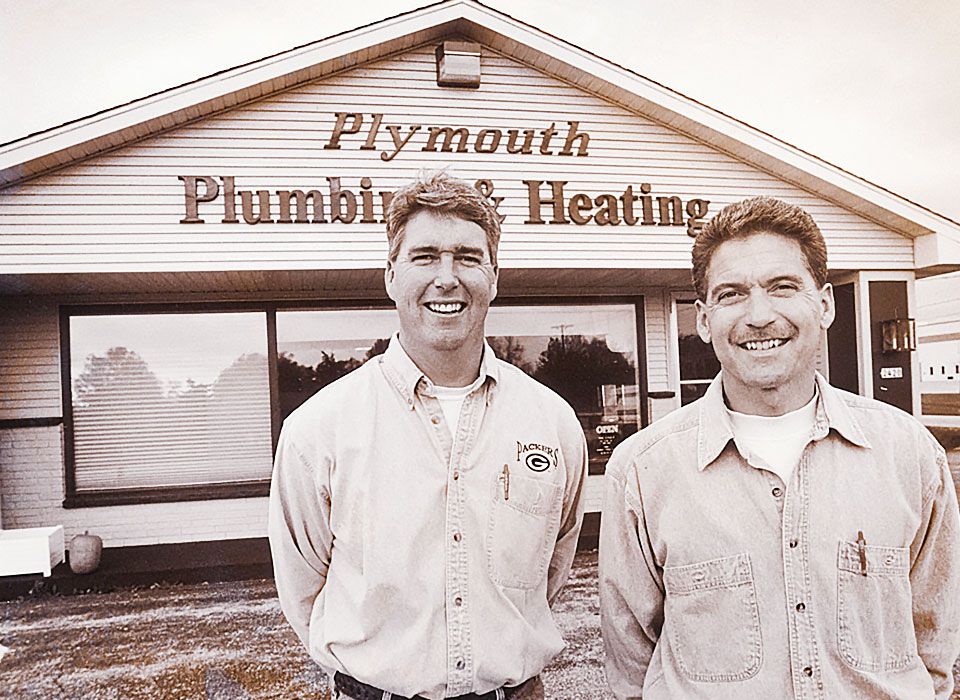 The toilet plumbers near me at Plymouth Plumbing & Heating have over seven decades of experience working with all manner of minor and major plumbing problems. We welcome your questions about plumbing fixtures, maintenance, and repairs. Call us at (920) 893-3601 and request a free estimate on our plumbing services or schedule a service call in Plymouth, Sheboygan, and the surrounding communities.